NEED HELP ?
I can bring you my experience and help you to :
Develop your business by seeking new opportinuties, new markets, new customers
Structure your sales, marketing and communication strategy
Find new shareholders to invest in your company or plan a transmission
Find companies to acquire for you
Restructure a department, an organization
Some examples of expertise I have developped in recent years :
WATER MANAGEMENT – IRRIGATION
Water is the most precious resource and irrigating landscape areas can be seen in a negative way by more and more stakeholders.
Solutions exist to save water and to optimize its usage to the strict minimum needed by the plants.
With more than 5 years experience, leading one of the top company in this business, I can bring you my expertise and contacts.
Read one of the articles I wrote and published in the industry magazine Irrigazette, both in English and French language :
http://altomint.com/wp-content/uploads/2020/05/Irrigazette-172-SOLEM-connected-solutions.pdf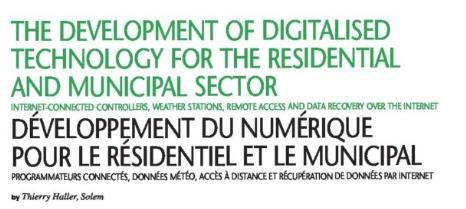 IoT = INTERNET of THINGS
LPWAN networks are going to change many industries with expanded possibilities for battery-operated devices and sensors.
It opens new horizons for the users with enhanced user experience.
More than 5 years as investor in IoT start-ups, and leading the connected garden, irrigation, pool and agriculture Business Unit of a manufacturer, I bring you experience in this new world.
Want to know how this revolution will affect your business and how you can develop new business opportunities?
Drop an email at thierry@altomint.com